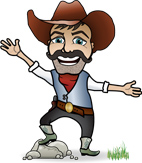 Calling all Domain Brokers - Individuals and Companies invited!
Are you looking for access to targeted domain inventory, often with buyer leads? Do you want an additional revenue stream while remaining an independent domain broker?
If so, we want
you
to be a part of the iGoldrush Brokerage Network!
As featured on DNJournal:
http://www.dnjournal.com/archive/lowdown/2011/dailyposts/20110127.htm
About the Brokerage Network
The iGoldrush Brokerage Network is an innovative approach to domain name brokering. When you partner with iGoldrush as a domain broker, you remain independent while accessing an ongoing stream of quality inventory to meet the needs of buyers you deal with and/or end-user markets where you excel. With our brokerage network, you are free to focus on domain brokering while we handle all the contractual and closeout processes.
Benefits of Becoming an iGoldrush Broker
You remain independent
Access to thousands of premium generic domain names, with new inventory added constantly.
We pair you with inventory that matches your experience, interests, and talents.
When available we pass on buyer leads for your inventory!
Accept only the names that you think you can sell
Competitive commission rates
Lean on us at any time for experienced help and/or feedback.
You focus on finding and closing buyers, while leaving the contractual and closeout processes to us.
Receive industry recognition for being part of iGoldrush Brokerage Network.
Join Now
If you are a domain broker and are interested in becoming part of the iGoldrush Brokerage Network, complete the
broker survey
to get things started.