Clements brothers launch first auction and find unique angle for international domain investing
Oranges and lemons, say the bells of St. Clements but you won't find any lemons in the Clements brothers' domain auction ending this coming Monday.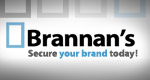 Almost one year to the day after announcing his split from Rick Latona, Toby Clements and his brother David Clements are running their first domain auction at Brannans.com and they have some interesting domains in the mix.
One of the unique angles David shared with us was that they are currently developing auction platforms in multiple languages to better cater to international domain investing.
Toby Clements said "I am really excited about what Brannans.com is going to bring to the table for everyone. I have missed the auction side of the business and it's going to make 2012 an even more interesting year for us."
To make things interesting, David Clements also told iGoldrush that everyone who registers for this auction will get thrown in a hat for a chance to win a brand new 64Gb, Wi-Fi, 4G iPad.
Do not Passover the opportunity this Easter weekend! Auction ends Monday April 9th 2012 so get yourself registered for the ipad drawing and check out the inventory in the first of many Clements brothers' domain auctions.